GuideStripe – floor marking tape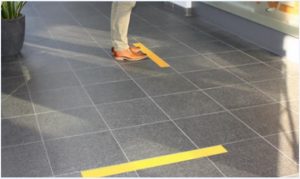 Organise workfloors by marking traffic lanes, pick-up, and drop off areas
Can be used to enable social distancing
Select from 11 available GuideStripe colours
Temporarily resists regular indoor foot traffic
Part of a full range of floor marking solutions
GuideStripe can easily help to organise foot traffic in my workplace with a temporary indoor floor tape available in 11 colours. Guide Stripe is a part of our wide floor marking portfolio.
Floor marking from Brady – A solution for all traffic levels:

Floor marking with colored floor marking tapes gets attention
When colored floor marking is built into our worlds, our actions become more efficient. A
consistent color standard helps employees and customers quickly recognise and respond with the correct action.

Eigenschappen van de GuideStripe Floor Marking Tape:
– Zonder antislip coating
– Beschikbaar in 3 breedtes: 50,8 mm, 76,2 mm en 101,6 mm.
– 33 meter lengte per rol
– Beschikbaar in 11 kleuren
– Customs zijn niet mogelijk
– Alternatieven voor customs:
>> met antislip-coating vergelijkbaar met B7538 vloerpictogrammen
>> zonder antslip-coating vergelijkbaar met B7541 pictogrammen
– Geschikt voor binnengebruik
– Productie bij Brady Zele, België
---